(Kapotasana)

I thought our first pose we could work on together would be the pigeon (kapotasana in sanskrit: say cop-oh-TOSS-awna). The pigeon is a really nice hip opener. If you spend any time sitting at your computer, walking, riding your bike, or driving you probably have some tightness in your hips.

On an engergetic level, our hips correspond with the relationships we have with each other and the world around us. When we don't say the things we need to say, when we blame ourselves, when things just don't work out with our friends and lovers, these emotions are held in the hips (our second chakra) and can cause tightness, discomfort and sometimes pain.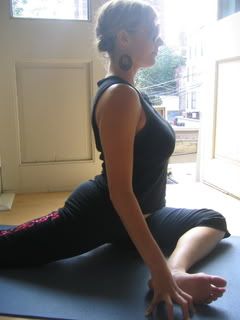 Hopefully you're sitting up straight and breathing at your desk.
Camile tries the seated version while checking out How To Dress Sex.

1) Make sure both of your feet are flat on the floor and hips width distance apart.

2) Pick up your right leg. Flex your foot and cross your ankle to the outside of your left thigh.

3) Keep your foot flexed so the rotation is happening at the hip and you're keeping your knee safe.

*If your hips are tight, your right knee is probably way up in the air. Gently put your right palm on top of the right knee.

4) Inhale and as you exhale press your knee down trying to work your shin parrallel to the ground.

*If your hips are a little more open, try to fold forward with a flat back over your legs (as in bring your belly toward your shin as you fold forward).

However far you get in either of these variations, stay there and take 5 deep breaths.

5) Gently release and switch sides.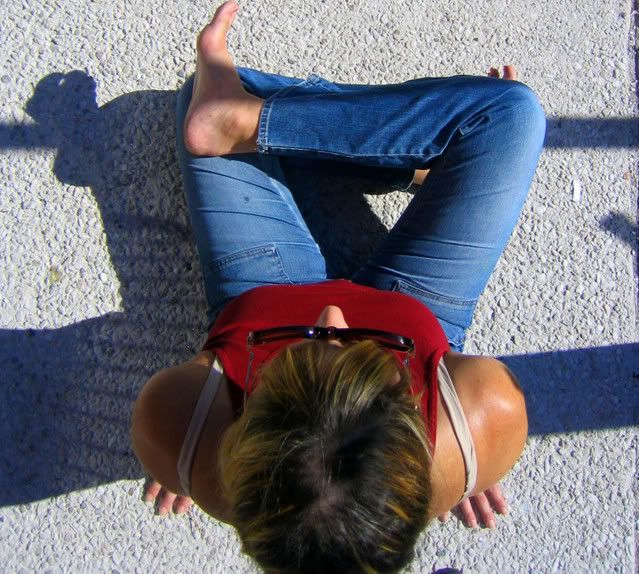 If you have more room, you can move to the floor and practice the same thing in either of these variations .


Try to do it every day for a week and see if you notice any changes in your hips as you walk and sit. Make sure to drink plenty of water to stay hydrated.



I'm really into drinking coconut water after a challenging hot yoga class: tons of electrolytes and more potassium than a banana! You can find them cool, and ready to drink at Whole Foods or OK Natural in Mt. V.



After all of your hard work, let yourself relax in sivasana (say shiv-OSS-awna) and set your iPod to "Gathering Storm" by Godspeed you Black Emperor!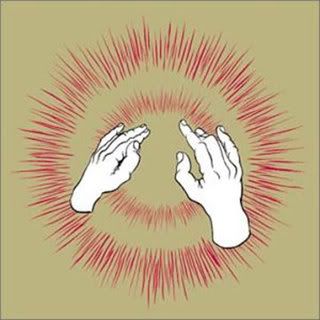 I am going to try doing the desk version of this pose every day at work this week. I'm also really curious to try coconut water (I hear it's a hangover cure-all!) -F